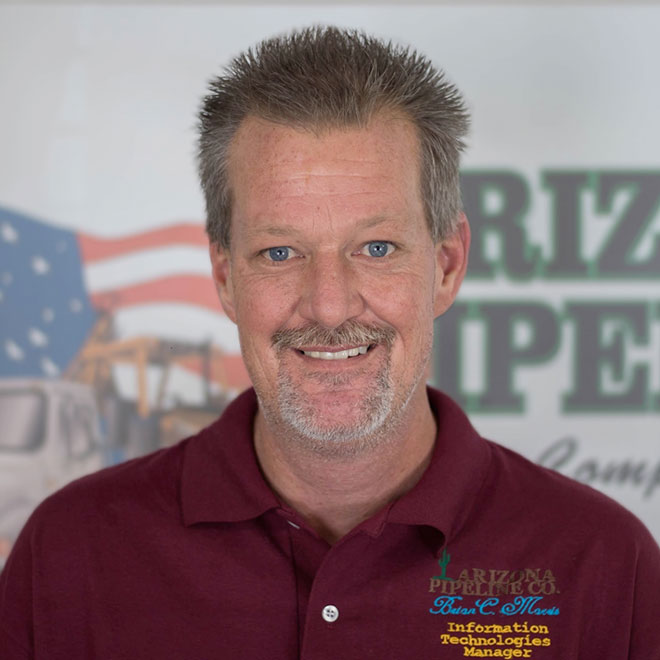 Information Technologies Manager
Brion C. Morris has had almost 2 decades as an integral member of the Arizona Pipeline Team. He began as a coordinator in the Phoenix Division setting up all new home construction and new business. After a very brief 2.5 years, Brion left Arizona Pipeline to follow his education. Brion graduated with 2 degrees; one in fundamental electronic repair and the other in computer science. Brion returned after his education in mid-2003 to continue his career with Arizona Pipeline. Upon return, he held many positions including repairing the underground boring equipment, managing the warehouse, repairing underground detection equipment, and mastering the technology infrastructure for APL. In late 2005, Brion relocated to the Corona office and began his career as the Information Technologies Manager. After working from Corona for a very brief period of time, he then relocated to the corporate office and began managing all of their I.T. requirements. Brion quickly built a new infrastructure so that the company could begin joining the ever-growing digital age. As Arizona Pipeline grew it became apparent that the I.T. Department needed to expand capabilities as well. Brion began the process and has developed two very integral parts to the Company. Arizona Pipeline currently hosts a software support and development side as well as a hardware and deployment side. Brion was successfully able to integrate and manage this team with use of a helpdesk software allowing a complete open door policy to all employees of APL. Shortly after he designed and deployed a new server configuration connecting all offices to a central location and created a system that allowed them to share information globally, instantaneously and securely. After this project was completed, Brion took part in the accounting software conversion. Although he wasn't part of the accounting staff, Brion successfully partnered with our Chief Financial Officer and completed the conversion for the company, again virtually connecting the entire company at the touch of a button.   Brion has always stayed ahead of current technology and has been able to integrate those technologies with Arizona Pipeline.
Brion currently resides in Apple Valley with his best friend and wife Shannon and his children. He enjoys writing music, making personal movies and videos and is a passionate drummer and musician. His life is his family, both immediate and the Arizona Pipeline Family that we have built over the last several decades.